Calypso Friends is a forum that singles out talented poets and writers which we want to bring to your attention. We look for new work every couple of weeks. We hope you enjoy reading them as much as we enjoyed finding them. 
Lily Hoang
The End of Something Great – I
(from Danielle Pafunda)
I break your face apart and find it is filled with fiberglass lawn darts. Your lips fall onto me: the hot coals burn my wrists. They simmer there until my bones are aircraft cables and I want to take you on a trip. I want you to look out the window. Your poprocks eyes spark against the pane. This is the beginning of our fracture.
The End of Something Great – VI
(from Tim Jones-Yelvington)
Each day, I wear sequins like scabs hot-glued to my skin. Below my encrustations, nothing heals. Bacteria fluoresces on my arms; cancer tremors my blood; you destroy me. The freckles on my shoulders turn into holes: deep, hollow shafts: my body is honeycombed. Take me into your sarcophagus and let us merry together. Even in Hades, writes Sappho, I am with you.
The End of Something Great – IX
(from Amber Sparks)
We are only ghosts: I go snow blind from staring at you for too long; you trace my thorny boundaries with scissors; I twist away from you, struggling and too vulnerable—but we have already passed, my love.
The End of Something Great – XIV
(from Lydia Millet)
No longer young, I become game—waiting for your slaughter. I open up my neck to let your arrow bend through my skin. But I cannot sate you, still.
The End of Something Great – XXII
(from Chris Kraus)
Cramped with ineffective dreams, I walk pointless around the suburbs. It is after midnight and the winds eddy—but they do not bring you back. You remain my dissatisfaction.
The End of Something Great – XXV
(from Megan Milks)
With lust engorging my capillaries, I want to fuck you like latticework constellations, your body creaming acid, disintegrating. I want to clean my body sterile and dip myself into your hostility. You deny me, and all I want is to resuscitate you: until you are mine: again.
These poems are forthcoming from Birds of Lace.
Lily Hoang is the author of five books, including A Bestiary (winner of the inaugural Cleveland State University Poetry Center's Nonfiction Contest) and Changing (recipient of a PEN Open Books Award). She has two novels forthcoming: Old Cat Lady (1913 Books, 2016) and The Book of Martha (Insert Blanc Press, 2017). With Joshua Marie Wilkinson, she edited the anthology The Force of What's Possible: Writers on Accessibility and the Avant-Garde. She teaches in the MFA program at New Mexico State University, where she is Associate Department Head and Prose Editor at Puerto del Sol.
Carine Topal
Passing
My brother drove a country of rides, dark roads, off-road, squealing across the damp grass. He loved the reckless nights. He had a godawful pancreas he should have dropped off the turnpike at dusk. A thousand problems. His sweet blood made injuries hard to heal. With his one good eye, naturally, he crashed from time to time. But he loved the dark and traveled from twilight into moonlight. His hair was set back far enough giving the night a shine. And like the moon, he stood behind his mystery, simply turned a corner into a passing field, unable to tell the delicate from the invisible, and disappeared. But that's not how he died. He gave what he could and spun light from music. A ravishing light. What the moon gives. He lived mostly without touching, but was touched mostly by music. He composed in his head and wielded an air baton while driving. Driving in the dark. Shostakovich Symphony No. 8, Op.65, until he'd return home to undress for bed, discarding his shirt and pants, shoes and socks, as if he were changing a wound.
 Apologia
I have amused my body, lord, came whole through the fire of a kiss, lord, leaving the dishes, swathed in syrup, edged in crumbs, lord, left the love of home and wept in his mouth with hope, lord, wept in the entry of lust until he too moaned, and I swear, lord, it was all we could do to contain ourselves, lord, to keep us alive as we repeated the sin once again, (heaven help us), and though the angel above my bed glanced down and winked, I believe she winked, her ancient holy eye, lord ─ a product of age, ashes and dust ─ this made me question the very act, lord, and accept the wrath, that might come to me from you. Forgive me, forgive the hands which tied me down, tied me up, lord, so that Adam, so that Eve — resurrected in this room — could see the light, understand the mystery of their hopeless beginnings, welcome the immense sacrifice which they made from the fruit of a simple tree. I have waited, lord, years, in the pocket of my thighs, to revile myself in such a way. Give me hope with a word, his word, that soon, another time, we will again, one upon the other, close to you lord, close to the heaven that we made this time, sin.
"Apologia" was  first published by Hinchas de Poesia.
Carine
, a transplanted New Yorker, lives in the Southern California desert. Her work has appeared in numerous journals and anthologies such as
The Best of the Prose Poem, Scrivener Creative Review, Caliban, Greensboro Review
,
Iron Horse Literary Review
, and many others.  She was nominated for a Pushcart Prize in 2004, was awarded residency at Hedgebrook, and a fellowship to study in St. Petersburg, Russia in 2005. She won the 2007 Robert G. Cohn Prose Poetry Award from California Arts and Letters, from which a special edition chapbook, "Bed of Want," was published. Her 3rd collection of poetry, "In the Heaven of Never Before," was published in December, 2008, by Moon Tide Press.  In the same year she was honored with the Excellence in Arts Award from the City of Torrance, California. In 2015
Carine
won the Briar Cliff Review Poetry Contest, was nominated for a Pushcart Prize, and her new poetry collection,
Tattooed
, won the Palettes and Quills 4
th
Biennial Chapbook Contest. She teaches poetry and memoir in the Palm Springs and Los Angeles areas.
Jefferson Holdridge
Preamble
Monday: Thought
A murder of crows prepares the sky for thought
Above the branches of a great white oak
Some three-hundred-years old.   The dark's beginning
To climb from patches on the shaded ground.
The perfect blue defines the southern chill,
Which alternates with summer in mid-October.
The crows have flown past and don't return. Sought
Or seeking something, one can't tell which. Bound
To earth we are, but moving through the trees, still
When winds are quiet, swaying when the yoke
Of arboreal gods are tugging at them over
And over. One senses that nothing in nature's winning.
It's all preamble. Too far away to teach.
A setting sun gilding the highest reach.
 Midday in the Sunroom
There are days when the artificial nature
Of human life becomes a burden,
A dormant season, a motionless house,
A silent window, when the balloon
Of the mind, apologies to Yeats,
Slowly and inevitably deflates
As it has today, impossible to begin,
Till suddenly at the painted birdhouse,
By the holly, a common wren hurled
Itself at a pileated woodpecker,
Hanging on and looking in,
A rapacious intruder at the door.
And when he would not be disturbed
A cardinal with a nest nearby
Dive-bombed as well.
It's as if a mouse
Rifled in the cupboard.
Or a branch dropped into a quiet lake.
Or unexpectedly a snake
Fell onto the basement floor,
Or without warning a church on high
Loudly pealed its bell,
Giving life to the abstract word
Like bird attacking bird.
Moving upon the Waters
What do they know of land
With their wings outspread
And only the ocean in sight?
As though angels can understand
Without remembering the dead
Or demons the face of light.
They fly ministering to each
Their elaborate patterned
Intent and destinies.
But we may merely beseech
To keep from being burned
In the fires of rhapsodies
Our simplest acts and pleasures,
Our family bonds and humanness,
Which heaven and hell pervert
Moving upon the waters
With only the earth to witness
The forms we must desert.
Director of Wake Forest University Press and Professor of English at WFU in North Carolina, Jefferson Holdridge is the author of two volumes of poetry, Eruptions (2013) and Devil's Den and Other Poems (forthcoming). He has written two critical books entitled Those Mingled Seas: The Poetry of W.B. Yeats, the Beautiful and the Sublime (2000) and The Poetry of Paul Muldoon (2008). He has also edited and introduced two volumes of The Wake Forest Series of Irish Poetry (2005; 2010).
Work by ZSOLT LÁNG
CONCEPTIONISTA.ORG
My name is fortunately not Zsolt Láng. This name is popping up everywhere like mushrooms after rain. The other day I came across an article about one of these Zsolt Lángs, a village baker somewhere on the Pannonian Plain, who sent back the flour to a woman who had the bad grace of passing an uncomplimentary remark on the prime minister. If you google the name you can easily find this piece of news and once you read it, you will inevitably presume that each bearer of the name Zsolt Láng is liable to withhold bread from somebody just because they happen to favour the enemy party.
I have no idea why this name is becoming so fashionable. Might it be because of its inflection that invokes the past? That final t in LángZsolt: the past-tense suffix of a flamboyant nonce verb, the first syllable flaring up, the second quenching the flame with the ineluctability of the preterite. Nowadays the tendency of turning towards the past is uncommonly strong. The past they keep turning to is of course nonexistent, an invention, but once they turn into it there is no more need to drag the real past to the daylight, look it in the eye, turn it over and over again in their minds, cogitate on what the consequences are, and of what causes, and whoever we raise high or cast down in the process.
My name is Zsolt as well, Zsolt Weibel. My wife doesn't like the past. She dubs me Zsolesz. Two syllables: Zso-lesz, Zso-will-be. In her eyes I am the future, that's the message behind the nickname. We have been through sperm screening. Three times we were supposed to go but we skipped the first test. The doctor gave us quite a roasting. Mr Zsolt, he said, you may believe this is all right, but it is our work you are ruining. The naked truth is, I was afraid to go. After all, one is always intimidated by the doctors.
Although the first lab test diagnosed a mild form of oligozoospermia, it is not a serious problem. It is not a problem at all. It may be caused by a variety of factors, including the stress involved in any screening. The second test – the third, that is, according to the clinical protocol – already yielded first-class results. Perhaps because my wife lent a hand in collecting the sample and her presence made me thoroughly relaxed. The lab nurse said when taking the test-tube that she could feel even through the glass how it was all a-swirl and a-buzz, like a swarm of bees.
After such excellent results I was released, but not before being given a meticulous life training programme. A bit of work-out in the mornings, but nothing too exhausting; a light but nurturing lunch; and of course I had to keep off all harmful things. No alcohol, no cigarettes.
How will it be when the day comes? Will it be fine, Zsolesz? I have been thinking so often… Sure, we all know how far daydreams are from reality. It rarely ever happens the way we imagined it. Still, we do consider all those thousands of possibilities. How will I behave? Will I be disciplined enough? Will my body toe the line? Will it not?
And then the day came. I woke up in the morning knowing, this was to be it. Although my dream was about something not even remotely connected. I was put to clean the windows of a ten-storey tower block, all of them, inside and out. Still, when I woke I had a clear awareness of what was in store for me. And indeed my wife called at noon to tell me she reached luteal stage. We should meet at the clinic. Or would I prefer it at home, after all? No I don't, I said a bit impatiently, because we had talked it all over and after weighing the pros and cons had brought a final decision.
It just occurred to me while I was being driven in a cab to the clinic, that this is just likeping-pong versus table tennis. Two different, incommensurable qualities. There is nothing that these words share. Fucking and conceiving a child.
When I arrived I gave my name and was sent by the receptionist into the opposite room. Here I had to change, that is, they gave me a queer-looking night-shirt with lots of velcros. But not before shaving me. Shaving my pubic hair I mean. I have no idea why this was necessary, but let's drop it, obviously it must be easier to handle it this way. One commenter had suggested the best way was to shave myself, at home, but unfortunately I forgot this small detail. It is a rather hurried and inclement procedure but one can get over it.
From here I was ushered into the waiting-room where apart from me there was a burly red-haired chap splayed out on his bed who resembled Oliver Kahn, the legendary goalkeeper of Bayern, in the act of storming out from his goal to bulldoze that master trickster Inzaghi. On the other bed, sunk in himself was a nondescript, pale-faced lad. And there was also a tattooed young Roma man with pumped-up muscles who, in contrast, was surrounded by a whole legion. Now and again he yelled out, let me go, because he was visibly on edge, slapping around in fits of hysteria. Peering in through the crowd around him I could see that the grimaces contorting his face spoke of genuine qualm. His mother – I presume that old-looking woman next to him was his mother – was encouraging him with loud, warm words, at which the young man broke down and in no time the whole gathering was heartily sobbing. I understood nothing of what they were talking about, I could only distinguish two words, stoko and gufa, that were often repeated. In the end the family left the room. Then the young man showed it to us, with evident pride, how big it was. No one wanted to look, I only threw a glance in its direction when he turned to address me. Uncle (that was me), whadjasay? I could see a tattoo there, its colour rather appalling. Isn't that something, I answered, he nodded thankfully and started relating the story of the dragon-head and how it ended up there, a story definitely worth putting to paper, he hoped he would find somebody of the author class to help him out.
Before I could answer anything they came for me and pushed me off on the wheel-bed. Just a slight haste in their movements, barely perceptible really, as everybody knew their duty. I was glad I had appealed to this clinic and not to the much pricier one where the patients couldn't even expect their doctors to attend on them at all hours. I said patients because indeed, I was feeling shittier every second now.
Fortunately dr Kiss appeared, to whom we had given the money in advance. Some say it was a mistake to pay him in advance, but I thought it was manlier. After all, there is a thing called trust.
My wife, perhaps on account of the money, had suggested at the very beginning to try to solve the whole thing at home because it would be so much cheaper. But after I handed over the envelope to the doctor she didn't bring up the subject again or if she did, I placated her by pointing out that the money had been spent anyway. All in all, it was much safer if the whole thing took place inside, in a well-equipped clinic. Safer and, what is paramount, more efficient.
To be frank, when we were in the preliminary stage of planning I, too, was carried away by some sort of romanticism. Mother Nature's soft lapel would often appear in front of my mind's eyes, complete with birdsong, the buzzing of insects, a clearing filled with the soft rustling of the wind where the sounds and scents mingling with other noises, whispers and rhythms would merge into one sole, mysterious, crescendo-ing and decrescendo-ing, incessantly throbbing overture… No! Let us remove the risks while we can! Let's hold life firmly in our grasp. I prepared for every opportunity. I have been jogging for two years now in the mornings and thanks to this one-hour daily exercise I am fit as a fiddle. I can bear anything and I reach consummation in everything. I finish whatever needs to be finished. And I won't go on with what cannot go on.
All of a sudden three people appeared around me and attached all kinds of appliances to my body. A valved thing was hung on my bed in the event my body would not function properly. Fortunately there was no need, I was only put on it for trial for a few secs. I was surprised myself at how impeccably every inch of me worked: readily like an intelligent dog that wouldn't disgrace his master, so it is far better-behaved when among strangers than when alone, when it would try some silliness now and again.
My wife was plugged in as well. All kinds of wires were hanging from her which were eventually plugged into different devices. When a low whistling signal started getting louder, the assistant told us to hurry up as the ovule was just about to detach, the missiles had to be on their way.
The two monitors were placed side by side and I was allowed to watch but could hardly pay attention to so many things at the same time. A nurse injected something into the infusion bag, I felt a coolness penetrate my veins. Like when a door opens and from the room comes that smell of old, from childhood, kindling an irresistible desire to enter…
Push now, now withdraw. How to make my movements more efficient, in what order to set them – nurse was not only telling me but she took an active part, parting my wife's thighs, re-arranging the bumps of muscles on the wane into the desired position. Her help was most welcome, although even so, once I was in, I halted. Not over yet! nurse cried, don't stop! Her voice slapped me a shade too shrill and this unnerved me. Goddam, no! yelled dr Kiss, pay attention to me and nothing else, you did well, relax! A deep sigh escaped me. His fostering did me a world of good. It just flickered through my brain, how lucky we have appealed to him. Although perhaps if I had got scared it would have been through easier. Who could tell what would have been best.
I was watching my breath. Don't hurry, doc was repeating and, just as if he shared in my plight, he was panting. I knew very well I must not hurry, we had been working on this in pre-conception exercise. Abdominal breathing is no help at this stage, on the contrary, it diminishes your chances. Thoracic breathing is needed and then gingerly, through the nose and mouth. In small, very small draughts. You focus on something faraway. Then time almost stops. Nothing stirs. And when doc yells at last, Now, Now let it go and for the sake of emphasis slaps your thigh, then you get all cramped but let it go, in despair, almost fainting.
What was my first thought? If everything worked as expected… Or rather, I thought of nothing because the nurses were already busying themselves, switching off monitors, carrying off my wife while I was trolleyed into the waiting-room which felt cold, unusually cold. In the end I came to think, yes, the first thing that occurred to me was that I must be fat after all, too fat. I must have misunderstood something. Eating regularly was important but you were not allowed to run to fat. If for no other reason, at least because if you were not fat it was much easier to get at a thin body. My thighs were burning and I felt pangs of ache in my testes. I was trembling. I was alone. I would have loved to hurry home as quickly as possible. I hoped next time it would be better. I have read in the comments of Conceptionista.org that the third conception was really a piece of cake, you could easily squeeze it in a lunch break. But for the moment I'm not thinking that far.
_
This first appeared in Body. ___________________________________________________________________
ZSOLT LÁNG (b. 1958), based in Transylvania, Romania, editor of Lato literary magazine (Tg. Mures/Marosvasarhely, Romania) is one of the most representative voices of his generation. His fiction is characterized by a propensity to wordplay and a relentless exploration of the politics of language. He has published more than ten volumes of short prose and essays, as well as a tetralogy entitled "Bestiarium Transylvaniae" (I:1997, II-III: 2003, IV: 2011).
____________________________________________________________________
About the translator: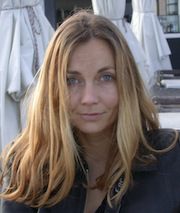 ERIKA MIHÁLYCSA is a Joycean and Beckettian scholar and Flanneur – that is, aFlann O'Brienist. She teaches 20th century British fiction at Babes-Bolyai University, Cluj, Romania. She has published mainly on the language poetics of this unholy trinity. She has translated Flann O'Brien's "At Swim-Two-Birds", Patrick McCabe's novels, short fiction and essays by Julian Barnes, Jeanette Winterson, William H. Gass, John Banville, Emma Donohue, Janice Galloway, poetry by Beckett, william carlos williams, Sylvia Plath, Medbh McGuckian, Ted Hughes, Paul Durcan, Gunter Grass, Matthew Sweeney among others, into Hungarian.
Poetry by Barth Landor
Shameless
Say that one effecting a yogic pose,
a novice, perhaps, chanting and
straining for peace in an Eastern squat,
instead just fouled oneself,
limbs extended in pious array
conducive less to a tantric Way
than to an occidental mess.
Such a mishap would not per se be shameless,
you and I could surely agree.
When our mantras fly upward,
as King Claudius might have said,
our nature may stay behind.
So any internal cleansing can go awry:
do we not share that tolerant view?
I would merely add the caveat –
although it's here I think our attitudes diverge –
that in trying to become a bodhisattva
but only going potty on the mat,
one who curses the noses that twitch,
who insists some other body is to blame
for the non-transcendent scent,
who relaxes into nightsoil
and presumes to call it enlightenment,
is certainly a person without shame.
Barth Landor lives in Chicago.  His novel A Week in Winter was published in 2004.
Poetry by Daniel Banulescu
translated by Adam J. Sorkin and Lidia Vianu
"Enemy of the people," Lover of the Fatherland!
I too harvested the reeds of your tenderness
I too did prison labor at the Canal and death climbed up to my belly
Whispered that I lisped and looked so handsome as she tried to part my legs
I cracked her skull against a rock
I bent over her and licked her in turn
I sprawled at the edge of a ditch washed my clothes and came back
I wrote my number in her little black book
That evening I withdrew into a corner hearing the chatter and snores around me
I was glad God had left his radio on near me
I loved you on my own two feet fatherland when I chopped wood
I loved you a bit bent over when I stacked bricks
For the kennels where I was going to bark for your ears only
I loved you on my knees and I loved you lying down
Tossing turning throwing off my blankets dragging you through the local movie theaters
Caressing you till your flesh went mad and bit its own shoulder straps
Your entrails came forth and danced in the glimmer from the screen
And your moans sewed a gun on my back with catgut
I've been to Botswana but couldn't die so well there
In Paris – I sauntered through Paris –
The belly I was walking with got angry and fled
I made a grand tour of many countries and at every bump in the road
Death moistened her finger with her spittle and touched my neck and face
But my loins have something to tell you my loins want to say a thing or two to your thighs
How can I do without you on Calea Victoriei how can I live without making fun of you
Since you set death and sex on everything around me
When you don't come along I feel deficient and beaten nobody's worth being shot any more
Nobody still shows her funny head under my window her neck good for wringing
My life's over my socks are worn my cigarette leaps straight at you
And begs you to bring me coffee but you won't bring me even a sip of coffee
You undress with a weary blues you take off your blouse
You make a towering pile of your own clothes you scale that steep slope
You dance shimmy and sweat
Straining to come at the same time I do as in my loftiest thoughts
Where you'll never reach
Where only boredom regret tenderness or fury can reach
Where the blackbird never sings the wind never blows
Where I shiver covered with newspapers
I cough I bleed I read on my skin the news about you I jabber on and on
You're the swarm of flies already buzzing round my jaws
Elementary School No. 27
At the age of 6 I knew terror
At 7 disgust
And at 12 indifference
I began to stir myself only in response to violent actions
I learned how to read only after someone promised me
That the letters I wasn't able to sound out
Had been written by women
And everywhere in them some nice ladies had scattered secrets for me alone
(I'd chosen a book decoded a message drawn the curtain shut
And a famous refined fickle woman awaited me leaning against a wall)
I was thrown into a cage to convulse
Every night my lust was presented with such a woman
At suppertime
From celestial snack bars
Some poor woman rained on me
And a kind caring extremely patient voice
Invited me to entertain her
I seized hold of the woman
Took her from her habitual life as if taking her to a film
On the hot floor I made her queen of a people of dust and straw
I drove her out of her mind I unfurled her as if she were a cabbage leaf
I made goo-goo eyes at her blouse
Between my claws she lived a short but intense family life
In the morning she'd awaken and extricate herself
From under my sleeping body put her makeup on and go out
A voice from nowhere extended its claws
Blew the strands of her hair
And begged,
"Please put my words behind you.
It will make your ass as beautiful as the rest of you."
POET: Daniel Banulescu's poetry books include I'll Love You to the End of the Bed (1993), The Ballad of Daniel Banulescu (1997), The Federal Republic of Daniel Banulescu (2000), and It's Good to be Daniel Banulescu (2010). Poems have appeared in The Pedestal, The American Reader, Toad Suck, Apiary, Prairie Schooner, Salamander.
Co-TRANSLATORS:
Lidia Vianu is Professor of English at the University of Bucharest and director of a translation center. She has published much literary criticism, The Desperado Age: British Literature at the Start of the Third Millennium, Alan Brownjohn and the Desperado Age, British Desperadoes at the Turn of the Millennium.
Adam J. Sorkin is an award wining translator of contemporary Romanian poetry who has published more than fifty books. In 2014, he published Rodica Draghincescu's A Sharp Double-Edged Luxury Object (Cervena Barva) and The Starry Womb by Mihail Galatanu and The Book of Anger by Marta Petreu (Diálogos Books).
Ditta Baron Hoeber  
 late works
Jefferson Clark 1930-2007
he is very ill now. bone thin. oxygen tubes up his nose sitting in a wheel chair in the new living room. the room is three quarters unpacked.   beautiful objects arranged beautifully share the space with objects that sit around waiting to be properly placed. we visit. he is attentive but unlike his stronger self mostly silent.
the whole time we visit the placement of a large painting across from where we sit irritates me. when the others go out of the room I turn and ask him if he is going to keep the painting there. he says:
yes.
hmm. hanging? or sitting like that on the mantle?
sitting.
I think the color of the mantle attaches itself to the painting.
yes. someone said paint the mantle the same as the wall.
yes. good. what about that red cup on the mantle. next to the vase. the red bothers me.
okay.
(I take the cup away.)
but I like triads. –the grasshopper.
move the grasshopper? here? next to the vase?
yes.
yes you're right. that's better. that's good.
yes.
Ditta Baron Hoeber is both an artist and a poet.  Her poems have appeared most recently in Nthposition and the American Poetry Review, and in Per Contra along with a suite of her photographs.  More of her poems are forthcoming this year in the American Poetry Review.
Her photographs, drawings and book works have been exhibited nationally and have been acquired by several collections including those at the Philadelphia Museum of Art, the University of Pennsylvania, the Franklin Furnace Artist Book Collection at the Museum of Modern Art, Oberlin College and Chelsea College of Art & Design in London.
June Coleman Magrab
Carnivores
Men have been eating
Her since she was sixteen.
They would have started
Earlier, but she was late.
Depending on how much
Hair is left on one hand,
And how much time she has
Free on the other, she
Watches her body disappear.
She's hospitalized. When no one
Is watching she steals syringes
She plans to self-medicate with.
She will fill them with carrot juice.
She's released after ten days.
She's told reverse it.
Eat them. She chooses
A waiter. She eats him in
And out of every restaurant
In town. He grows weary
And she eats him up.
Eventually she goes
On to another, a poet, whose words
Fill her belly until he joins
The waiter.
Unless He Cuts Her Tongue Out
She will never please him.
She tried it once
With a bag over her head.
It gave him a thrill,
Like the time she let him tie her hands
To a fake wood bedpost in Florida,
When he said he'd be repulsed,
And it happened so fast he never got in.
She used to chat him down,
Supply him with the small talk lost in him.
These days, on the days he chooses,
He tells her
About his work.
Tidbits, about people whose names
She cannot even pronounce.
She no longer tries. It is clear.
He likes her best mute.
On the anniversary
Of his father's death
She consoled him,
And he smacked her
Across the room,
Told her not to interfere. She offered the usual
Apology,
And he smacked her up again.
She put a small paper press
On her tongue
To remind her of her bad mouth.
Rivulets of blood gave her away.
And he smacked her again.
Yesterday she bought a pocket knife.
The brand name kind.
Stainless steel blade,
Better in case of infection.
She wraps it in tissue paper
Between two handkerchiefs.
She writes his name, signs it with her tongue.
She will never please him.
Carnivores first appeared in "Wicked Alice" and Unless He Cuts Her Tongue Out first appeared in "New York Quarterly."
June Coleman Magrab has published in Anthologies: The Other Side of Sorrow (Hoblebush Books, 2006) and The Breath of Parted Lips, Volume II (CalvanKerry Press, 2004) as well as various journals: Calapooya Collage, Caprice, New York Quarterly, Stirring, etc. She is a MacDowell Colony Fellow, Virginia Center for the Creative Arts Fellow, was awarded a Vermont Studio Center grant and has been a Frost Place Participant.
Zack Rogaw 
Jam Session: The Bill Evans Trio
 The pianist begins
pressing lightly on the ivories
nudging the felt-padded hammers
to ping the strings
The melody pulls out threads of the lyrics:
         your lips
                         are much too
close to mine
         beware
my foolish heart
In the dark the pianist reaches
for that old ballad
the words too corny now
but not the music
Then the bassist starts to slip his fingertips
all up and down
the instrument's neck and belly
his touch light
but insistent
wincing with pleasure
at each note
but should our eager lips combine
The piano is driving so far
from the melody
hands probing
for every variation
till the tune melts away
The drummer rubs his brushes
splayed open
on the skins
and then the melody
which seemed to have disappeared forever
returns from exile
that old ballad
has come
all the way back around
           it's love
     this time it's
love my foolish heart
At Last: Notes on Etta James
Her scream
as beautiful
and controlled
as whistling
Her shout
as unrestrained as a queen
Etta sang from somewhere so far back in the throat
it had to be Mali
She offered us a rendered suffering
her face turned to a mask
as if the B in R & B
stood for Buddha
Etta tiptoed the crest
between the most acute awareness
and complete oblivion
Her music doesn't sound
like gingerbread and gumdrops
That's why you can taste it
with your toes
Her songs were the gospel proof
that your whole life can rip like a diamond
and you can blaze it together every time
Zack Rogow is the author, editor, or translator of twenty books or plays. His seventh book of poems, My Mother and the Ceiling Dancers, was published by Kattywompus Press. He is the editor of an anthology of poetry of the U.S.A., The Face of Poetry, from University of California Press. Currently he teaches in the low-residency MFA in writing program at the University of Alaska Anchorage and serves as poetry editor of Catamaran Literary Reader.
John Guzlowski
I Move across Your Body
there's something
casual about it, my hand
passing across your face,
a moment waiting
patiently for
another
nothing I could write
or say would capture
what this movement
means to me
I listen to my body
and don't know
what it says
nor what it feels
about it
there's just
the slow movement
of one distance
across another
Blackberry Winter
 Dry May
and the end of spring–
It's cold here too
But there aren't any
blackberries
here in Danville
They've gone
with the children
and the jobs
Once upon
a time there were
mills and tobacco
Families in the park
and babies
in big wheel strollers
but now
you see a dog
you know he's leaving
John Guzlowski's writing appears in North American Review, Garrison Keillor's Writers' Almanac, The Ontario Review, Poetry East, Exquisite Corpse, Atlanta Review, Crab Orchard Review, Mississippi Review, Rattle, Atticus Review, Manhattan Review, The Drunken Boat, and other print and online journals here and abroad.
Kate Lutzner
Dinnertime

There is a beautiful significance in killing,

at least on the shows my husband and I watch

while we eat. I think the pigeons feel it,

studying us from their roofs. They peer in,

smart enough to know the division of a wall or

a house. A pigeon is beautiful if you don't

have any comparison. I was the type

of child to love everyone, even those

who had placed a tenderness embargo

against me. There is nothing kind in the cold

today, the way my desk presses

against my ribs. I play the word dinner

on my computer, listen to it over and over

until it is just a symbol of numbed significance.

You can do this with anything, but I wouldn't

recommend it unless you are willing

to lose what you love.
the perfect grass
we catch fireflies
smear them on our
faces, this reality
outside the trailer
where our father
hit us a few
minutes ago
we poured our hearts
into each other
to reveal sound
gravity tells us
to narrow function
into a bowl, no funnel
no pouring mech-
anism, anything
we might sever
or bind
Kate Lutzner's poetry and stories have appeared in such journals as Antioch Review, Mississippi Review, The Brooklyn Rail, BlazeVOX, Rattle and Barrow Street. Kate holds a J.D. from the University of North Carolina at Chapel Hill and an MFA from City College and has been featured in Verse Daily. She was nominated for a Pushcart Prize as well as the Best of the Net Anthology.
Sara Cooper
Things in this world
Tell me, is the rose naked, or is that her only dress?
                                                —Pablo Neruda
There are things in this world, I am sorry
to say, that cannot be solved with a bubble bath.
Not even with rose petals partially surfaced and partially
submerged. My mother, describing her bath, used the word
luxury. In this word, the difficulty of skin.
There are things in this world, for a mother, that are harder
to say than luxury. For example, my daughter. My mother
said these words and watched the trees grow into where
will the water come from and how to keep the suckling
leaves from sprouting on the trunk.
There are things in this world that we can hardly bare
with the faces we've been given. Things that are more than
we can form our mouths around. More than
our muscles. I don't know how many ways
she has of smiling. Seven or a thousand. One is real. One is for
my father only. One means she will never come
to your party. One is for alone in a crowded bath.
There are things in this world that we don't remember saying.
Like when my mother says she's been taking baths
with petals that float like ships missing sails.
Which is more absurd, I ask. That an aircraft carrier floats
or that a plane flies? Both seem as impossible as a mother.
There are things in this world that we can't connect with and.
My mother's hands are under water. My roses
need deadheaded. What when the tub drains? Dear Neruda,
her only dress is this one, and when it falls, she's old.
We speak of snails
For instance, my mother calls me. Days after a summer funeral left pollen in our throats.
         Honey, she says, the most amazing snail joined us for dinner last night. Just like from a movie.
        How big?, I ask, wondering what movies she's been watching, needing a towering explanation for this call. She pauses. I hear her forehead crinkle. She's desperate to carry me to this delight.
       You know how big marbles are? Not the regular ones, but the oversized?, she asks, unsure that I do, unsure that I played the way she did, in the schoolyard, squatting in skirts, petticoats exposed. Afraid of the boys and how they might watch her watch the marbles. Afraid of the cold hanging in the autumn trees. Afraid of her mother at home whispering refrain refrain and her sister's wedding dress hanging in the closet like a giant clipped wing.
       Yes, I say.
And I do remember. Swirls inside the glass—emerald, lilac, fire—floating in those little spheres like dreams, the ones we, as children growing old, build glass walls around. When the game is over we cast our plastic nets and see what's left.
      Well, that's how big, she says.
Sara Cooper received her M.F.A. in poetry at New Mexico State University. Her writing has appeared in Mid-American Review, BorderSenses, and Puerto del Sol. A chapbook of poems, Mis—, was published in 2014 by Grandma Moses Press. She teaches writing in Houston with Writers in the Schools and at the University of Houston, where she is pursuing a Ph.D.